Visitor's Guide To Malaysia
All About Malaysia
Stunning, ethnically diverse
Malaysia
offers travellers a huge range of attractions to choose from. Mix and match a trip that includes lush jungle trekking, chilling out on white sandy beaches, snorkeling or diving in clear blue waters, or eat your way to a gastronomic adventure. With the bustling capital city of Malaysia – Kuala Lumpur nestled between the UNESCO-listed towns of Penang and Melaka, they are only just about 3 hours drive (5 hours by bus) apart and offers both affordability and accessbility for those landing via Kuala Lumpur International Airport.
For those with more than a week to spare, they would opt to land in
Singapore Changi Airport
before taking their vacation northwards. It may seem trivial and even bothersome to Singaporeans & Malaysians alike, but tourists get to experience the cross-border journey from Singapore to Malaysia via one of the two causeways linking the nations' borders. They may start off by staying in
Singapore
for a day or two, before crossing to the border town of
Johor Bahru
where they can visit Legoland Theme Park, Angry Bird Park, Kittyland and watch the fireflies of Kota Tinggi for the next two days.
Next destination will be the UNESCO listed town of
Melaka
, where one can embrace the cultural heritage of Dutch and Portuguese-inspired architecture and mouth watering Nonya food. Moving further north will bring us to the capital of Malaysia –
Kuala Lumpur
where the Petronas Twin Towers (once the world's tallest building) will certainly capture your attention. This uber urban city are laiden with towering skyscrapers and glitzy shopping malls but are known for their infamous traffic jam too ! Ride on to the food capital of Malaysia,
Penang
where Cendol, Hokkien Prawn Mee, Penang Laksa, Rojak and Char Kuey Tiao are the MUST-TRYS before you embark on your flight to the next destination.
Whether you're a budget-minded independent backpacker or a tourist with cash to flash, Malaysia satisfies against an exotic backdrop of wafting call-to-prayers, eye-watering spicy street foods and the chatter of a friendly, cosmopolitan people. The Malaysian calendar is packed with festivals, so do your research and try to get here when one that appeals to your interests takes place. The country is geographically split in two with West Malaysia representing the Malay Peninsula on mainland Southeast Asia and is home to 11 states plus Malaysia's two "capitals".
Then there's the less-populated East Malaysia – Borneo, across the South China Sea, a huge and rugged island that Malaysia shares with Indonesia. It's worth covering ground in both parts as you'll want to see the natural wonders of the two states of Sabah and Sarawak on Borneo with 23 national parks to choose from !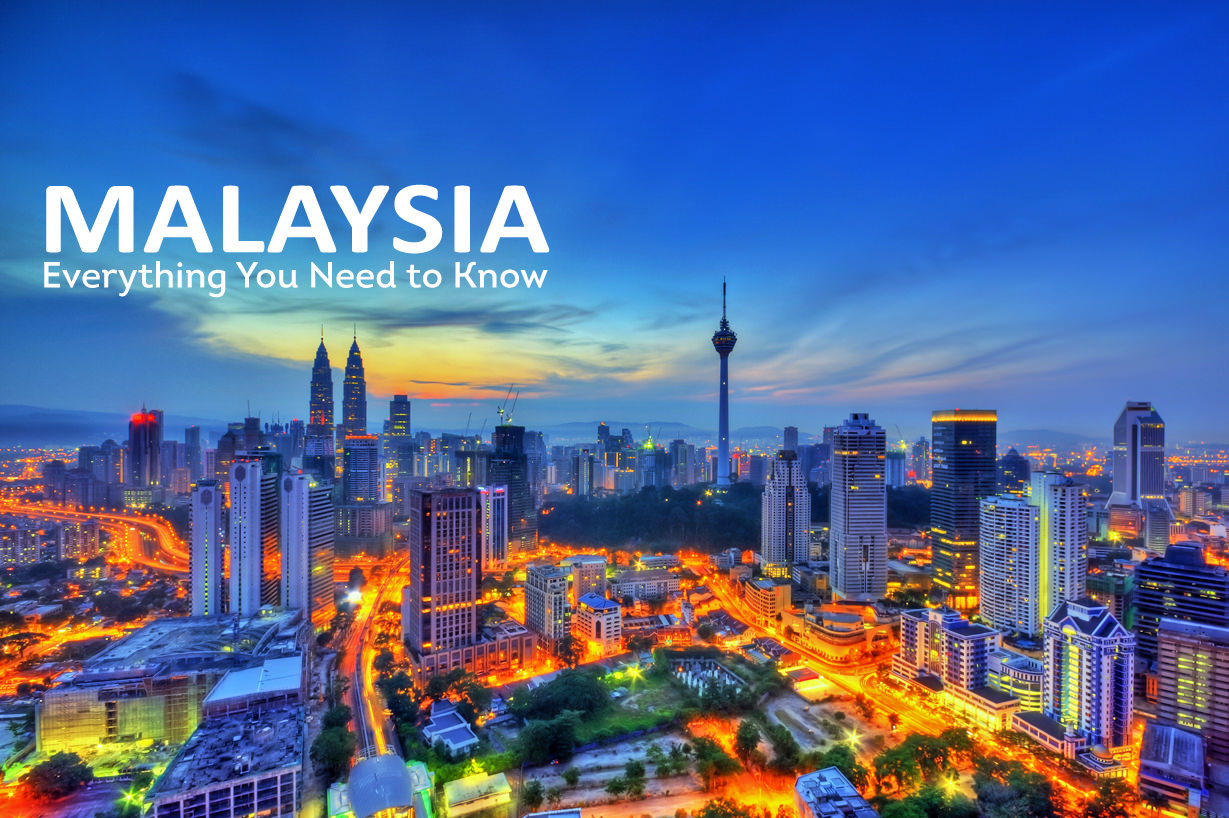 When To Go
The climate in Malaysia is hot and humid round the year and sees the wet typically from the month of September onwards to December.
Currency
Malaysia's currency is known as Malaysian Ringgit (MYR or RM). Most ATMs allow withdrawal from foreign bank accounts. You can use Malaysia Ringgit for all purchases and credit cards are widely accepted too, although small businesses may not accept them.

Safety
Petty theft is a problem in major tourist cities, but violent crime against foreigners are particularly rare. Always keep your bags away from the side of the road, to avoid snatch thefts and exercise caution when going out at night.
Police
Malaysia has Tourist Police who have been trained to help tourists and can be recognised by their dark blue uniforms with the letter "I" (information) on a red and blue badge in front of their shirt pocket. The emergency number to dial for the police is 999.
Transport
Peninsular Malaysia is served by the North South Expressway linking all major towns of Malaysia together, railways. Domestic flight routes are currently serviced by our National Carrier – Malaysia Airlines and Budget Airline – Airasia. For travel on land, you can have a choice of
taxi for city transfer
,
hire a van with driver
to visit places of attractions,
private limousine
to travel in comfort to any destination or buses for a shoestring budget.

Language
The national language in Malaysia is Bahasa Malaysia, and in tourist centres many Malaysians will speak some basic English. Learning a few basic words in Malay could take you a long way. Try (Good Morning) Selamat Pagi, (Please) Tolong/Silakan, (Thank you very much) Terimah Kasih Banyak.
Visa
You may refer to our article on
visa application in Malaysia


Weather
Malaysia's weather is consistently hot and humid throughout the year with the occassional drop in temperature to 25 degress celsius at night. The hottest months in Malaysia are typically March, April and October. Malaysia has two seasonal monsoons (the North-East Monsoon & South-West Monsoon), which brings torrential rain from September to February in different parts of Malaysia.

Malaysian Culture
A predominantly Muslim nation, Malaysia and Malaysians are considered conservative in comparison to their neighbouring countries. The weather may be hot & humid, but dress appropriately to stay out of unwanted attention. Not all restaurants sell alcohol and certainly do not drink alcohol at F&B outlets with Halal sign as a respect for their religion. Sunbathing in the nude is a big no-no in conversative Malaysia, even in urban city like Kuala Lumpur.
We provide cross-border taxi from Singapore to JB (Johor Bahru) and in Malaysia
WeChat okgojb
WhatsApp (+65) 9769 2531
Email myjbtour@gmail.com
INSTANT BOOKING For Private Taxi Service To Johor Bahru (JB)
Customized Itinerary ? Request For A Quote From Us
YOU MIGHT ALSO LIKE THESE